Barra Best announces John Gribbon – Easydrive as a finalist at the Best of the West Awards! ?
Many thanks to all the wonderful people who nominated and voted to put Easy Drive into this year Final!!!
---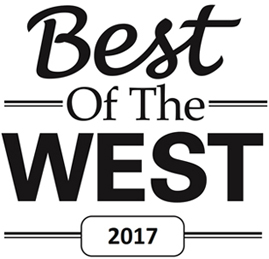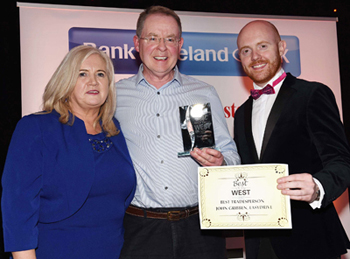 Rosemary mc Kenna (Sponsor) and Barra Best (BBC Presenter) announce John Gribbon – Easydrive as winner for the 2nd year running of the Best of the West Award.
Thanks a lot all the thousands of wonderful people who voted for me ?
---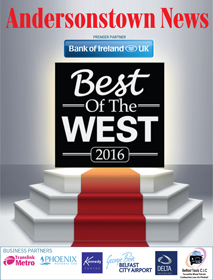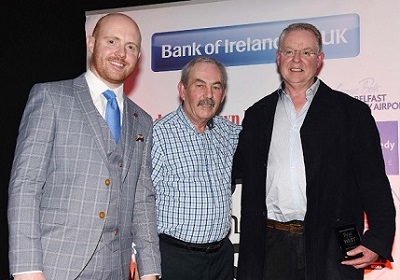 Barra Best (BBC Presenter) and Seamie Rice (Sponsor) Announce that John Gribbon of Easydrive has been voted a Best of the West Winner at the prestigious Best of the West Gala night 2016.
Thanks a million to everyone who voted for me!!! ☺
---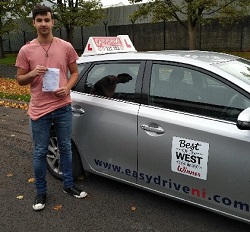 All the lessons were fun and educational and I was made to feel very comfortable driving. I couldn't have picked a better Instructor.
Ryan Corbett
---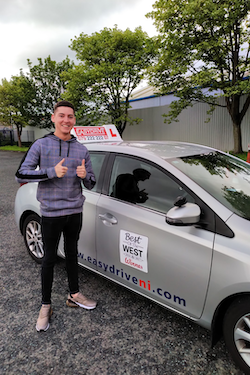 I had a great experience learning to drive with John
He is very knowledgeable and thorough in his approach to lessons
Would highly recommend
JJ Chapman
---
Video Testimonial of Mark McCourt – owner of
Thomson's Garage Nightclub Belfast
---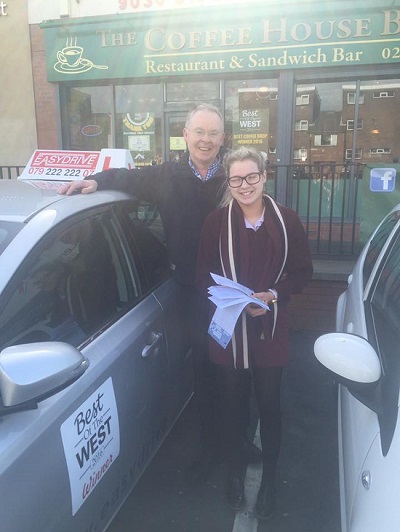 Review – Jim & Mary Mcllwaine – Owners of – The Coffee House Bistro
Folks have to let you all know that your favourite server in the COFFEE HOUSE BISTRO, our youngest daughter CAITLIN, has just passed her driving test on her first attempt. Congratulations Caitlin.
A massive THANKYOU to her driving instructor John Gribbon from EASYDRIVE DRIVING SCHOOL.
Two daughters ,first time passes, out of two. That's why he's the Best of the West and we are also.
---
Passed first time. John from Easydrive is some man. Highly recommended.
Barry Webb
---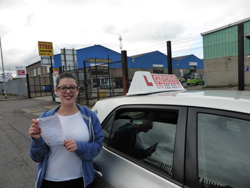 John is a great instructor. He is is encouraging and supportive and is very thorough in the way he teaches.He is very friendly and makes driving seem easy. Thanks John
Emma Matabouli
---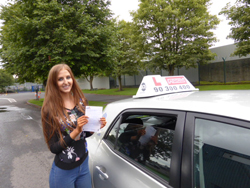 John was a brilliant driving instructor. He was so patient and made me feel comfortable driving. l would highly recommend John of Easydrive.
Jennifer Forde
---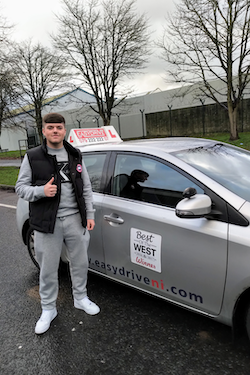 Feeling great to pass my Test 1st time with John gribbon of easydriveni.com
Very good instructor and very patient. I would highly recommend
Connor Galway
---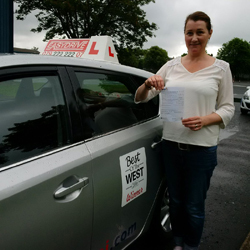 Thank you so much John for your patience and understanding. I couldn't have passed without you.
Lesley Brown
---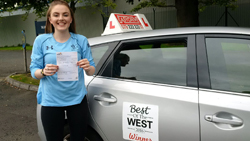 Thanks John for helping me pass my Test 1st time. Feeling great. Highly recommend Easydrive.
Brianna Mulhern
---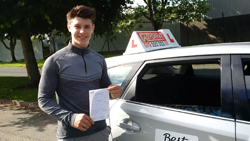 Thanks John for helping me pass the test 1st Time with Easydrive. Great experience learning with him. He's got great patience.
Odhran White
---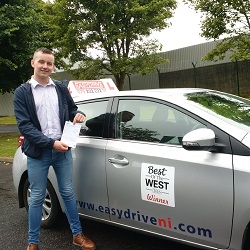 John I sincerely can't thank you enough for the patience in teaching me to drive. I had struggled with other instructors but when I learned with Easydrive it all came together and now I'm safely on the road. Thanks mate.
Sean Graham
---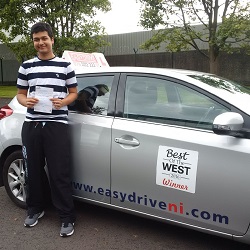 I'm very happy with the way my son was taught to drive by John Gribbon. Safe, sensible and confident drivers are nurtured well.
Dr. Abraham
---
Thanks John for all your encouragement and patience during all my lessons which helped me pass my test 1st Time.
Catriona Dinsmore
---
My aim was to be a good driver first and not just someone who passed a test. Due to John's professional approach I achieved both.
Gerard Walls
---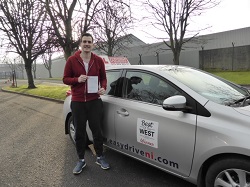 I first saw Easydrive and John Gribbon when they won Best of the West.After learning with them and passing my test First time thanks to their expertise I now completely see why they won. I would definitely recommend.
Joe McKearney
---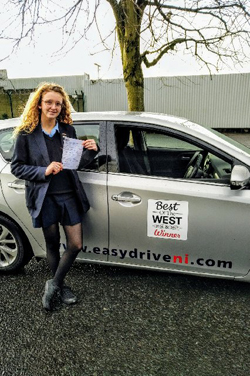 John is a fabulous instructor. So much fun and very encouraging. Loved all my lessons and always felt supported. So happy I've passed but I'll miss him!!!
Amy Best
---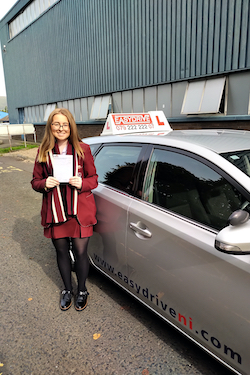 John is an amazing instructor.
So patient and willing too.
And so motivating.
I would definitely recommend to anyone.
Alex Cheadle
---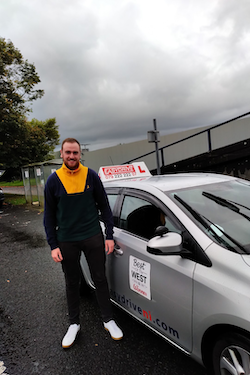 Many thanks to John Gribbon of easydriveni.com for getting me passed through the driving test 1st time!
Really good experience learning to drive with him.
Brendan McGattigan
---
For more

Reviews

 click

here

.
Learning to Drive is an Exciting Journey!!!
Our Award Winning Experienced Instructors will be with you all the Way!!!
—
Click here to submit questions to me.
---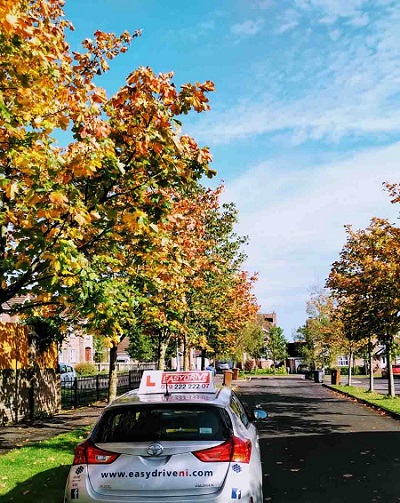 Our Fully Qualified D.O.E. Approved Male and Female instructors (with over 25 years of teaching experience have successfully taught learners aged from 17 to 94 years old) will safely get you passed your driving test with fewer lessons saving you Time and Money.
Check out our special offers.

Easy Gift Vouchers for all occasions delivered FREE to your door.
————————-
EasyStart
At EasyDrive you will be taught by experienced fully insured, fully qualified DOE approved Male and Female instructors, who follow the guidelines laid down by DSA/DVA. We guarantee you will never be taught by a Trainee Instructor.
EasyGoal
Our goal is that you will be prepared and ready to take the driving test in the shortest possible time. Passing your test first time saves time & money. Learning to drive is an exciting journey. Easydrive experienced instructors will be with you every step of the way.
EasyAims
We Aim for you to achieve success in your driving test by learning in a stress free comfortable and relaxed learning environment that puts you at ease behind the wheel. This makes it easy for you to take in the safe driving skills that will make you a competent and confident driver for life.
Easy Structured Lesson Plan
We teach to the DVA syllabus using a structured lesson plan as recommended by DSA/DVA. We structure this plan to your individual needs, and we use visual aids to help you understand the lessons and we give you help and support to pass the Theory and Hazard Perception test. We keep a record of each lesson so that we can easily keep track of your progress and tell when its time for your practical test. This and timing of your test accounts for our excellent pass rate.
Easy To Learn with a fully qualified Instructor
Choose a fully qualified instructor. A trainee instructor has not yet passed an ability to teach, test and has no formal qualifications to teach learner drivers.
EasyDrive Guarantee
At EasyDrive, we guarantee you will not be taught by a trainee instructor.
EasyDrive Tuition you can trust
All EasyDrive instructors have passed ability to teach exams and are fully qualified DOE approved instructors (ADI). Our DOE approved certificate is on display in the car.
Both Male and Female instructors are available.
Easy Convenience
Free pick up service. We will pick you up at your home, work or school and leave you back again.

Interview with:
John Gribbon

EasyDrive
John passed his own driving test at the age of 17 and turned his love of driving into his own driving school, teaching thousands of people for over 25 years.
The DOE-approved instructor believes in an easy journey for each and every one of his pupils from raw beginner to successfully passing their test. John takes an easy step-by-step approach, building one skill upon another to ensure each learner is 100 percent prepared to face the challenges of the modern driving test. With fantastic offers on lessons and gift vouchers available, make driving easy with EasyDrive.
Easy To Learn from our experience
We have over 25 years experience of teaching local people to drive safely in Belfast. We have taught generations of families from grandparents to parents to their sons and daughters. We have taught learners aged from 17 to 94 years old. We are local instructors who come very well recommended in your local area.
Easy Refresher Courses
If you have a full licence and would like to brush up on your skills, our refresher courses will make you a more relaxed, confident and skillful driver.
Easy to enjoy learning
The prospect of learning to drive can be a daunting one. But at EasyDrive our ethos is to make the whole experience as easy as possible. All EasyDrive instructors have a professional, patient and friendly approach to driving instruction. We believe the more you relax and enjoy your lessons, the quicker you will build up confidence in your driving skills and the sooner you will be ready to successfully take your driving test.
Its an easy choice.
Congratulations on taking your first steps to driving success with EasyDrive.

As featured: www.belfastmedia.com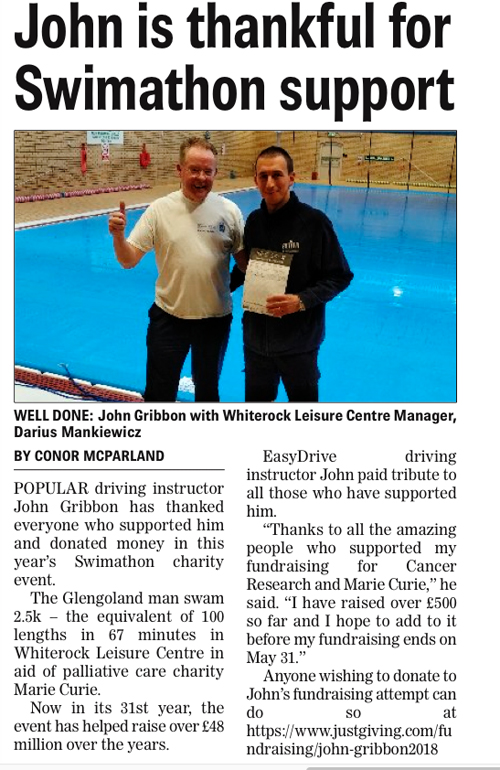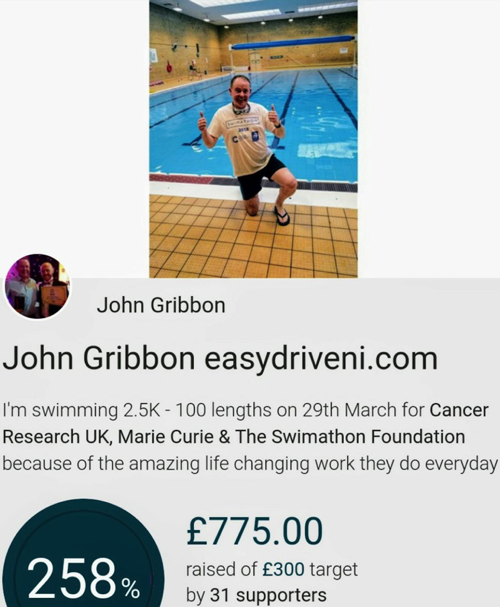 Fundraising has now closed this year with £775 raised (that's £1875 now raised over the last three years for Cancer Research and Marie curie)
Thanks a million to all the amazing people who supported me!!!?